Would you like to learn to dance? We teach -
Waltz, Quickstep, Foxtrot. Tango, Viennese Waltz, Argentine Tango
Jive, Cha Cha Cha, Rumba, Salsa, Samba, Rock n Roll, Paso Doble.
We are back !!
Classes re - started
Monday 13th September
(at Weston Favell Primary School)
AT LAST !! (with no new restrictions ) we can resume
classes and Private lessons

Come and meet old friends and stretch your legs again
Geoffrey Bates ABATD; the school principal has been teaching in Northampton for over 30 years following many successful years of competition dancing before turning professional in 1984.
Then, from 1984 he began teaching dancing in a local dance school and took the professional exams of the British Association of Teachers of Dance (ABATD) and continued over the next four years to perform demonstrations and cabaret and lecture on cruise ships all with his late dance and business partner Ann Charlton.
In 1988 they took the opportunity to buy the Dance School and have continued to teach and run a local Dance School ever since. Carnival Dance Club continues to run under the guidance and teaching of Geoffrey helped by his associate teacher Yvonne Price ABATD.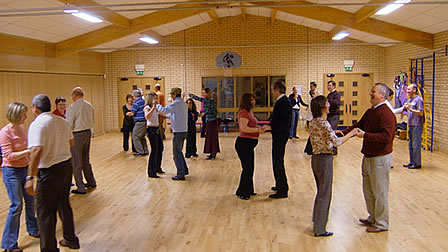 Group Classes and Private Tuition available