Would you like to learn to dance? We teach -
Waltz, Quickstep, Foxtrot. Tango, Viennese Waltz, Argentine Tango
Jive, Cha Cha Cha, Rumba, Salsa, Samba, Rock n Roll, Paso Doble.
February 2021 update
Hopefully with the latest news
Private Lessons can be resumed from 17th May
and
classes from 21st June 2021
Private lessons - call to register for when we restart
Unfortunately I believe it will be still some time before we can resume classes.
I will teach private lessons to couples only until we can safely resume classes.
I have been in discussions with Weston Favell Primary school who like most schools are not doing private room hire yet but hope to soon.
In the meantime I have the use of a function room at Ecton Brook Community Centre until we can return to the school hall.
Ecton 1
Ecton Brook Road, Northampton NN3 5EN
(Free Car Park outside)
Private tuition will be one teacher per couple with no physical contact between teacher and pupils and maintaining social distancing.
Call or E Mail to book a lesson
Geoffrey Bates ABATD; the school principal has been teaching in Northampton for over 30 years following many successful years of competition dancing before turning professional in 1984.
Then, from 1984 he began teaching dancing in a local dance school and took the professional exams of the British Association of Teachers of Dance (ABATD) and continued over the next four years to perform demonstrations and cabaret and lecture on cruise ships all with his late dance and business partner Ann Charlton.
In 1988 they took the opportunity to buy the Dance School and have continued to teach and run a local Dance School ever since. Carnival Dance Club continues to run under the guidance and teaching of Geoffrey helped by his associate teacher Yvonne Price ABATD.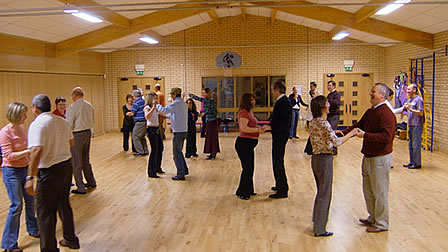 Group Classes and Private Tuition available